COMMUNITY EVENT RECAP: 
Brave Like Bronson - Dealership Competition!!!
Rick Keffer Dodge supported another great local charity here in Yulee, Florida called Brave Like Bronson for their 2nd Annual 
Children's Special Needs Christmas Party that was held on 
December 16, 2016.
Rick Keffer Dodge participated in a friendly competition against two other local dealerships to see who could "Pack A Truck" toy drive. Thank you so much to all our customers and community friends for helping us and supporting Brave Like Bronson!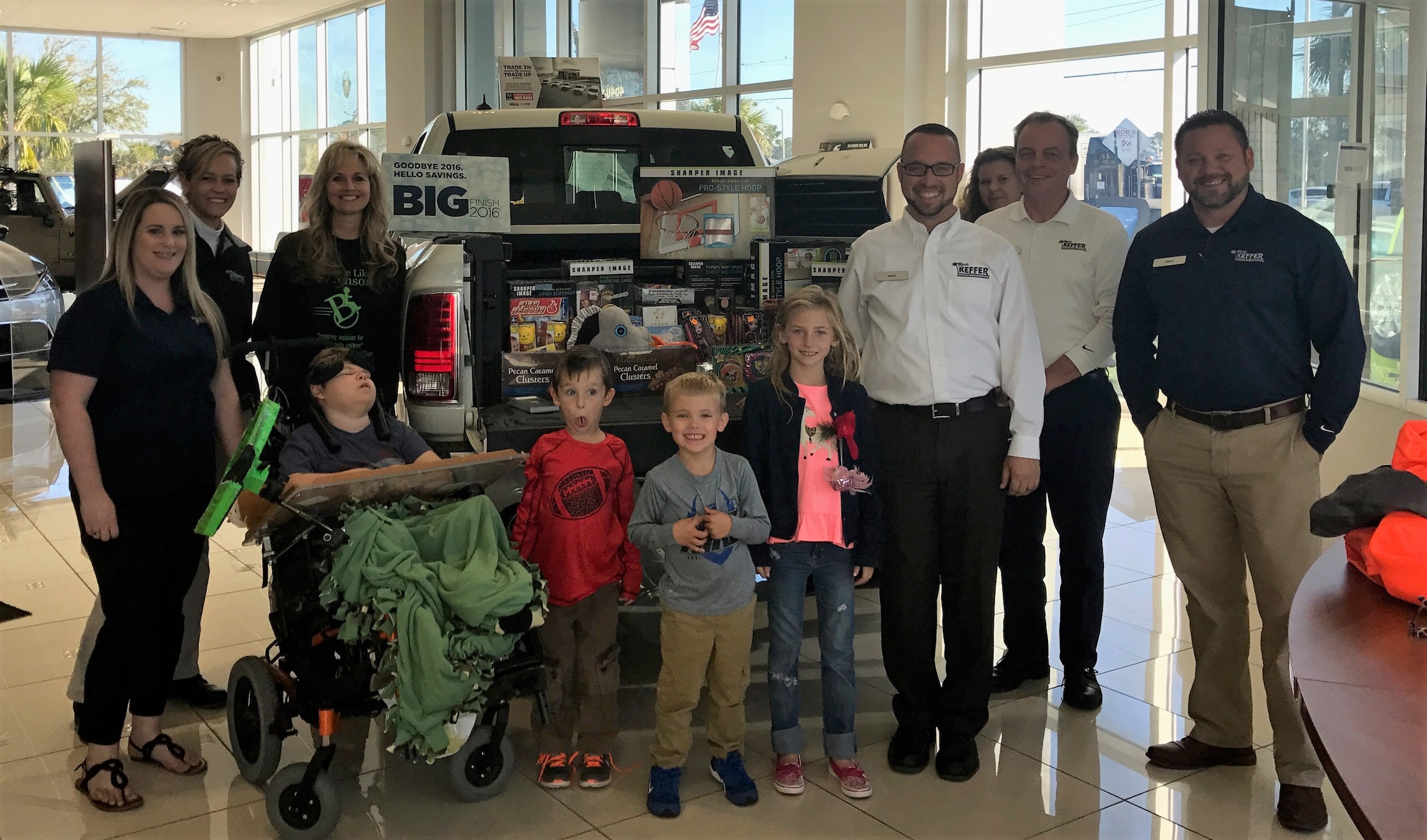 About Brave Like Bronson, Inc.: 
Helping local communities to embrace individuals with disability by educating, teaching, and bringing awareness. Brave Like Bronson, Inc. inspires school-age children how to respond to and embrace children with special needs by providing age appropriate educating tools and hands on experiences. This will allow entire communities to practice tolerance and awareness while accepting and understanding the world of special needs children and families. 
Brave Like Bronson, Inc. is involved in many areas from speaking, puppet appearances and runs. Below are the upcoming events that we are excited to share.
2nd Annual Children's Special Needs Christmas Party that was held on 
December 16, 2016
Every year they host a Christmas party for special needs children. It's a magical night for the children and their families. Each child and their siblings received a toy from Santa and Mrs. Clause. Each parent received gifts and each person enjoyed a meal. On December 16, 2016 this past year, they held the 2nd Annual Children's Special Needs Christmas Party. Because of the amazing community we have, they receiving overwhelming responses to the RSVP invitation they send out. They welcome your support to provide a memorable night for the children. Please keep them in mind for this upcoming December. 
If you know a special needs family that would benefit from this event, please email bravelikebronson@comcast.net. Thank you in advance for your support. 
Toys for Tots Annual Drop Off Location! 
Every year, you can drop off new toys at Rick Keffer Dodge located in Yulee, Florida. In exchange for your donation, we try to find ways to reward you! 
Last year, Rick Keffer Dodge gave you $250 OFF the purchase of a new vehicle just for giving back. Thank you so much to our Nassau County community!
To find out more and to get involved, please stop by or contact us at 
(888) 859-1975.

About the Toys for Tots Mission: 
The mission of the U.S. Marine Corps Reserve Toys for Tots Program is to collect new, unwrapped toys during October, November and December each year, and distribute those toys as Christmas gifts to less fortunate children in the Yulee, Florida community in which the local campaign is conducted.